Reptiles of Ecuador | Serpentes | Viperidae | Bothrops atrox
English common names: Common Lancehead.
Spanish common names: Equis amazónica, equis del oriente (Ecuador); yoperojobobo venenosa (Bolivia); cuatronarices, mapaná, peloegato, talla equis, barba amarilla (Colombia); jergón, jergona, jergón de la selva (Peru); mapanare, rabo amarillo (Venezuela).
Recognition: ♂♂ 135.4 cmMaximum distance from the snout to the tip of the tail. ♀♀ 172.3 cmMaximum distance from the snout to the tip of the tail.. In Amazonian Ecuador, the Common Lancehead (Bothrops atrox) may be identified by having the following combination of features: a triangular-shaped head with a snout that is not upturned, low keels (longitudinal ridges) on the dorsal scales, heat-sensing pits between the eyes and nostrils, and a faint dorsal pattern of 20–33 pale X-shaped markings on a brownish dorsum.1,2 Newly-hatched lanceheads have brightly-colored tail tips (yellowish in males and whitish in females).3–5 In Ecuador, the most similar viper that may be found living alongside B. atrox is B. brazili, which has a pink iris and a much more contrasting dorsal pattern. The toad-headed pitvipers (genus Bothrocophias) have an upturned snout and comparatively much smaller eyes. The Amazonian Bushmaster (Lachesis muta) differs from B. atrox in having prominent knoblike keels on the dorsal scales, which give the snake a "pineapple texture."2,5
Picture: Adult from Llanganates National Park,Pastaza, Ecuador.
Picture: Adult from Hato La Aurora, Casanare, Colombia.
Picture: Adult from Hato La Aurora, Casanare, Colombia.
Picture: Juvenile from Maycu Reserve, Zamora Chinchipe, Ecuador.
Natural history: Common, Bothrops atrox is generally the most common viper in the Amazon rainforest.2 It inhabits old-growth to heavily disturbed evergreen lowland and foothill forests, savannas,6 plantations (banana, cassava, African palm,7 and rice fields), pastures, rural gardens, and even ventures into human dwellings.8–10 Individuals are up to 6.4 times more frequently encountered near bodies of water (such as swamps or along lagoons, artificial ponds, rivers, creeks, and streams) than way from them.8,11,12 During "drier" periods in the Amazon (December–February in the Ecuador Amazon), individuals are less frequently encountered and they actively seek wetter spots near bodies of water.12–15
Throughout the day, Common Lanceheads typically remain inactive and coiled on the forest floor (usually along fallen logs, at the base of trees, within buttresses, or in clusters of roots, bamboo clumps, and dense vegetation) or sheltered below leaf-litter, logs and timber. Others remain out in the open,12 basking in direct sunlight or moving at ground level.1–19 Within about an hour of sunset, most individuals emerge from their hideouts and move to their nocturnal ambush sites.4,19 Most individuals remain active until 10:00 pm,12 but others throughout the night.19
Individuals of Bothrops atrox usually dwell on soil or leaf litter, but also sit-and-wait on the surface of slow-moving bodies of water, swim across rivers, or forage or perch on arboreal vegetation 0.1–4 m above the ground.9,12,20 Overall, there is a tendency for juveniles to be more arboreal than adults.17,21 During a two-day period, one Common Lancehead moved over an area of 43 m2 (about the size of an average studio apartment).19
Common Lanceheads ambush their prey as well as actively forage for it using chemoreception.22,23 They can "bite and hold" their prey or "bite and release," subsequently following the scent trail of the envenomated prey.14 These vipers are opportunistic predators24; they feed on almost any animal that is 17–156% of their body size.22,25 As juveniles, they attract prey by means of moving their brightly colored tail as a lure.8,19
The diet of Bothrops atrox includes primarily (38–44%) amphibians (such as Rhinella margaritifera, Boana cinerascens,14 Callimedusa tomopterna,12 Adenomera andreae, Leptodactylus discodactylus,8 L. mystaceus, and L. pentadactylus),18 (19.5–29%) mammals (mostly rodents18,26 but also opossums),10 and (11–19.5%) lizards (such as Arthrosaura reticulata, Loxopholis parietalis, Copeoglossum nigropunctatum, Gonatodes humeralis, Ameiva ameiva, and Kentropyx pelviceps),17,27 but also snakes (including Imantodes cenchoa, Leptodeira annulata, Ninia atrata, Tantilla melanocephala,28 groundsnakes,22 and members of their same species), birds,10 centipedes, and fish.24,29,30 The diet of B. atrox seems to shift from being based primarily on ectothermic ("cold-blooded") prey as juveniles to based mostly on endothermic ("warm-blooded") animals as adults.30 Individuals probably obtain water from their prey, from dew-laden surfaces, and bodies of water.
Common Lanceheads rely on their camouflage as a primary defense mechanism.8 When threatened, some individuals flee, others give a "warning" by vigorously wiggling their tail against the leaf litter, and some just readily attack.4,19 Predators of Bothrops atrox include snakes (such as Clelia clelia25 and Micrurus obscurus),2 mammals (such as peccaries,31 pigs dogs, cats, and tayras), birds (including eagles, hawks, chickens, and trumpeters), caimans (Paleosuchus trigonatus),14 and tarantulas.8,32 Individuals of B. atrox are parasitized by ticks and protozoans.2,14
The Common Lancehead is a venomous species (LD50 1.1–4.9 mg/kg) in which the venom of juveniles is more inflammatory, lethal, hemorrhagic, and kills more quickly than that of adults.33–37 In humans, the venom typically causes intense pain, swelling, bruising, bleeding, blistering, defibrination (depletion of the blood's coagulation factors), nausea, vomiting, numbness, loss of consciousness, soft-tissue infections, and necrosis (death of tissues and cells).38–41
In poorly managed or untreated cases, the venom of Bothrops atrox can cause amputations, permanent complications and disabilities, and even death (in 1–2% of cases).39–42 The prognosis is usually bad for victims that reach a hospital after six hours after the bite, for patients over 65 or under 15 years old, and for those that use traditional medicine.40,43,44 Patients bitten by neonate snakes are more likely to develop coagulopathy (a condition in which the blood's ability to coagulate is impaired), whereas those bitten by adult snakes are more likely to develop severe local swelling and stronger local tissue damage.45 Critically envenomated victims die from intracranial hemorrhage, acute renal failure, hemorrhagic shock, acute pulmonary oedema (swelling caused by an excess of fluid in body tissues), or respiratory arrest.39,42
Bothrops atrox is the most important cause of snakebite mortality in the Amazon.39,46–48 It causes 36.5–99% of snakebites throughout its range,39 probably because snakes of this species are perfectly camouflaged, abundant in agricultural areas, have a high venom yield (up to 342 mg of venom per bite) and toxicity,35,36,49 and have an aggressive self-defense behavior.2
Fortunately, the Colombian and Costa Rican antivenom available in Ecuador can, to a degree, neutralize the venom of Bothrops atrox.42,51 However, the venom's toxic and enzymatic activities differ drastically between populations, habitat types,52 and across age categories.53–55 For example, the protein similarities between the venom of populations of Common Lanceheads in Brazil and Colombia may only be around 23%.56 Although serum therapy (antivenom) is the only recommended approach against a bite by a B. atrox, the use of dexamethasone as an adjunct to the antivenom therapy could be useful to improve some of the local symptoms caused by the envenomation.57
What to do if you are bitten by a Common Lancehead?
Remain calm.
Remove rings and tight fitting clothes to avoid swelling.58
Reduce movement of bitten extremity to reduce absorption of venom.59
Avoid the application of tourniquets, electric shocks, traditional medicine, venom suction, and incision of the bite wound.8,59
Plan immediate evacuation to a medical facility that has antivenom and avoid any action that may delay transportation.
At the medical facility, personnel can initiate treatment with the appropriate antivenom, monitor vital signs, and perform laboratory tests.58
Males of Bothrops atrox become sexually mature when they reach ~56.5 cm in total length; females at ~90.6 cm.30 Males fight against each other over access to females; they do so by pushing the opponent to the ground.8,60 The breeding season of some B. atrox populations occurs throughout the year,8,9 but is synchronized with regional rainfall in others.30 Females are capable of delaying fertilization by storing sperm for months.56 After a gestation period of 161–343 (~5–11 months), females "give birth" (the eggs hatch within the mother) to 5–45 young.4,7,8. In captivity, individuals can live up to 18 years.8
Conservation: Least Concern.61 Bothrops atrox is listed in this category because the species is widely distributed, frequently encountered throughout its range, tolerates and even thrives in human-modified environments, and is considered to be facing no major immediate extinction threats.8 However, the Common Lancehead generally cannot survive in areas without vegetation cover. The substitution of traditional crops for mechanized agriculture is causing the species to be less frequently encountered or absent altogether in some areas.14 Other threats include direct killing (lanceheads are usually killed on sight by humans alleging precautionary reasons), traffic mortality, and the decline in the abundance of prey.7 Still, given that B. atrox has formidable capacity to adapt to new environments, it is unlikely that it will become extinct, at least not in the near term future.
Distribution: Bothrops atrox is native to an estimated ~2,836,368 km2 area throughout the Amazon basin and adjacent foothills of the Andes in Bolivia, Brazil, Colombia, Ecuador, French Guiana, Guyana, Peru, Suriname, and Venezuela.62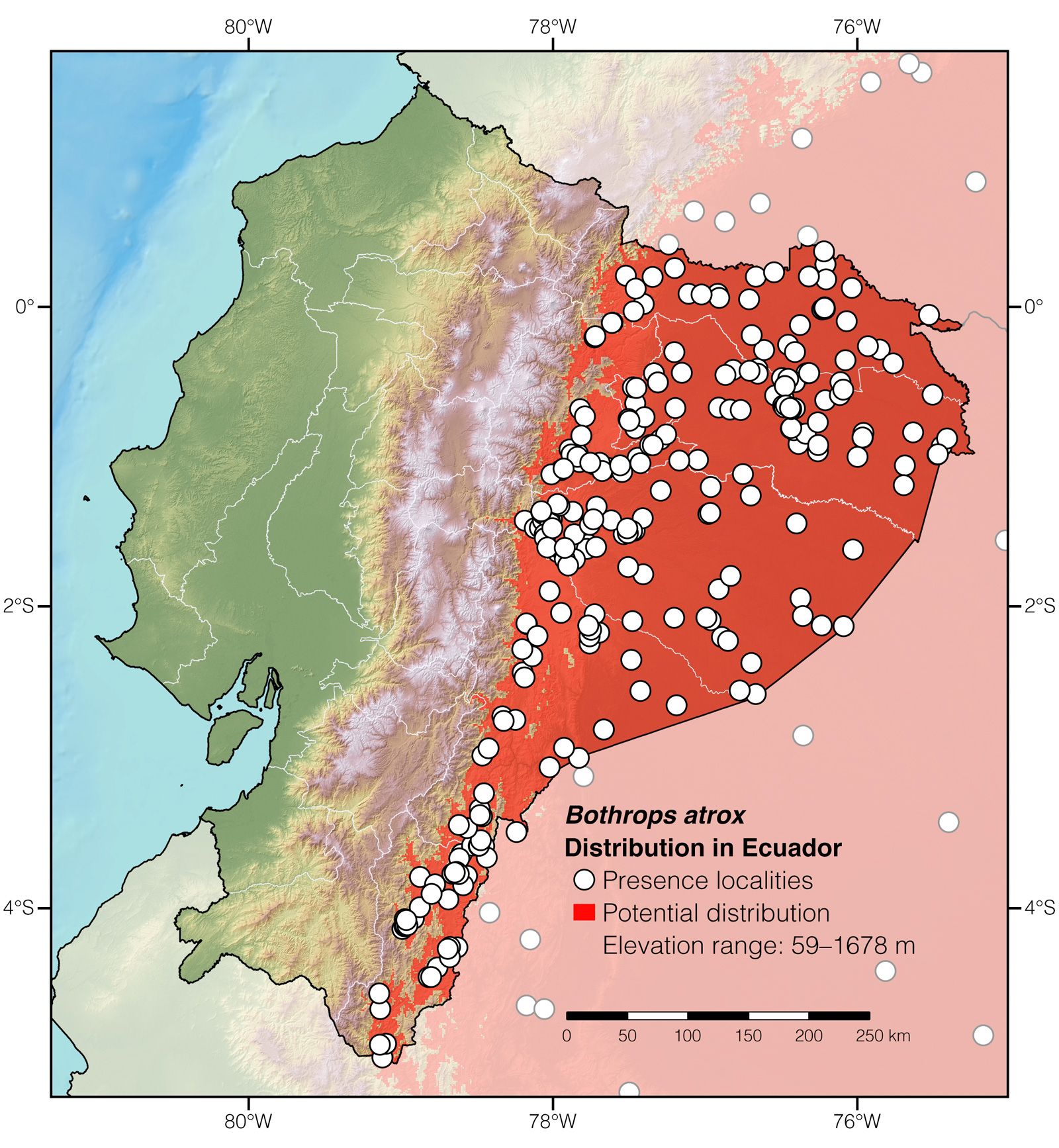 Etymology: The generic name Bothrops, which is derived from the Greek word bothros (meaning "pit"),63 refers to the heat-sensing pits between the eyes and nostrils. The specific epithet atrox is a Latin word meaning "savage" or "fierce." It probably refers to the aggressive self-defense behavior of members of this species.2
See it in the wild: Common Lanceheads can be located with ~10–30% certainty in forested or agricultural areas throughout Amazonian Ecuador. Some of the best localities to find Central American Lanceheads in the wild in Ecuador are: Yasuní Scientific Station, Tiputini Biodiversity Station, Jatun Sacha Biological Reserve, Tamandúa Ecological Reserve, Shiripuno Lodge, Copalinga Reseve, and Sani Lodge. The snakes may be located by walking along trails at night.
FREQUENTLY ASKED QUESTIONS:
Bothrops atrox vs B. asper, which is more dangerous?
Although both species of lanceheads are capable of killing a person, the Terciopelo (B. asper) causes more accidents per year,39 has a higher fatality rate (5–7% vs 1–2%),39,64,65 and is generally considered the most dangerous of the two. This is probably because individuals of B. asper attain larger sizes (up to 250.1 cm vs 172.3 cm),2,8 have higher venom yield (up to 1,530 mg vs 342 mg),49,65 and occur in areas with higher human population density. However, the venom of B. atrox is the more toxic of the two (LD50 1.1–4.9 mg/kg vs LD50 1.9–11.2 mg/kg).
Do vipers follow humans?
They don't, but they follow their prey.22 Vipers such as Bothrops atrox are abundant in human-modified areas because rodents are common in these areas.10
Which is the most dangerous snake in the Amazon rainforest?
The Common Lancehead (Bothrops atrox) is considered the most dangerous snake in the Amazon, since it causes 36.5–99% of snakebites in the area, and is responsible for the greatest number of fatalities.39
Author: Alejandro ArteagaaAffiliation: Khamai Foundation, Quito, Ecuador.
Photographers: Jose VieiraaAffiliation: Tropical Herping (TH), Quito, Ecuador.,bAffiliation: ExSitu, Quito, Ecuador.
How to cite? Arteaga A (2020) Bothrops atrox. In: Arteaga A, Bustamante L, Vieira J, Guayasamin JM (Eds) Reptiles of Ecuador: Life in the middle of the world. Available from: www.reptilesofecuador.com
Literature cited: