| | |
| --- | --- |
| Published October 14, 2021. Open access. | Gallery ❯ |
Iridescent Whorltail-Iguana (Stenocercus iridescens)
Reptiles of Ecuador | Sauria | Tropiduridae | Stenocercus | Stenocercus iridescens
English common name: Iridescent Whorltail-Iguana.
Spanish common name: Guagsa iridiscente.
Recognition: ♂♂ 29.4 cmMaximum distance from the snout to the tip of the tail. Snout–vent length=9.9 cm. ♀♀ 21.3 cmMaximum distance from the snout to the tip of the tail. Snout–vent length=8.3 cm.. The Iridescent Whorltail-Iguana (Stenocercus iridescens) differs from most other medium-sized diurnal and terrestrial lizards in its area of distribution (particularly species in the family Teiidae) by having keeled dorsal scales with pointed ends instead of granular scales.1 Stenocercus iridescens occurs nearby, and is often confused with, S. puyango, S. limitaris, and Microlophus occipitalis. From S. puyango, it differs by lacking a post-femoral mite pocket and posterior circumorbital scales (both characters are present in S. puyango).2,3 From S. limitaris, it differs by having smooth, instead of keeled, head and ventral scales.2 From M. occipitalis, it differs by having 2–5, instead of 7–8, supraocular scales.2,4 Males of S. iridescens differ from females by having a colorful ventral coloration consisting of a pink belly, yellow chest, black neck, and reddish throat (belly cream or pale brown in females and juveniles).2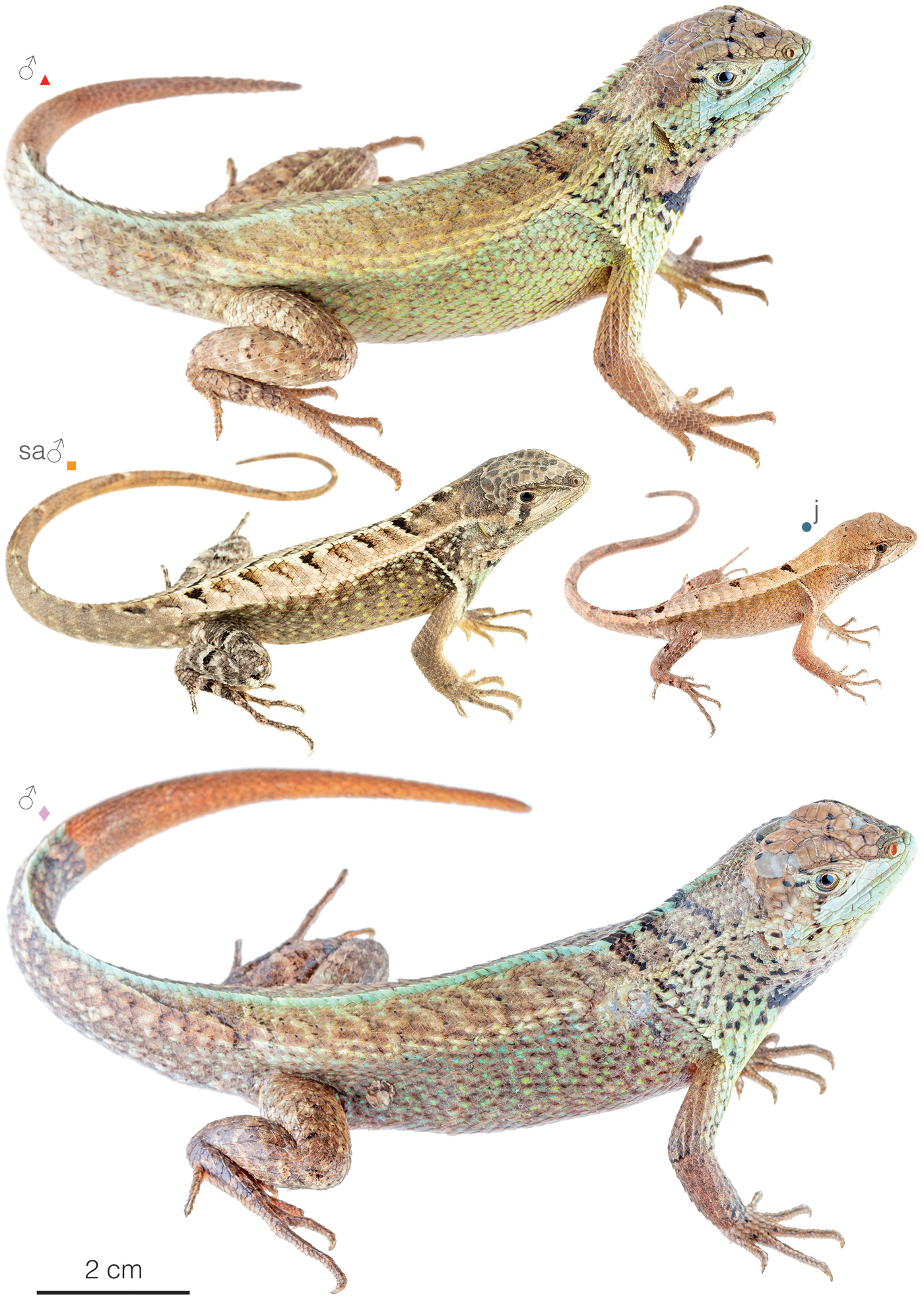 Figure 1: Individuals of Stenocercus iridescens from Reserva Biológica Cerro Seco, Manabí province (); Cerro de Hayas, Guayas province (); Vinces, Los Ríos province (); and Reserva Las Balsas, Santa Elena province (), Ecuador. j=juvenile.
Natural history: Extremely commonLikely to be seen every day, usually in large numbers.. Stenocercus iridescens is diurnal and terrestrial lizard that inhabits a variety of natural habitats ranging from dry lowland shrublands and deciduous lowland forests to evergreen montane forests.5 It is a dominant species in dry forests throughout western Ecuador. Iridescent Whorltail-Iguanas prefer secondary forest areas and clearings in the interior of the forest, but are also adapted to human-modified environments such as pastures, crops, reforested areas, and infrastructures.6–10 Females are most often found on the ground between sticks while males occupy more prominent places such as tree trunks and shrubs up to 1.3 m above the ground.11 Individuals are most active during sunny days and may be seen basking on large rocks.10 At night, they sleep on the leaf-litter, on the ground, or on trunks, twigs, wood poles, shrubs, or agave plants up to 130 cm above the ground.10,12 The diet of this species includes a wide variety of arthropods, but the specific prey items are not known.11 Iridescent Whorltail-Iguanas escape predators by running or by remaining still and relying on their camouflage.11 If captured, they may shed the tail and bite as a method of defense and escape.10 There are records of birds (Caracara cheriway,13 Falco sparverius,14 and Athene cunicularia15) and snakes (Rhinobothryum bovallii16) preying upon individuals of this species. Stenocercus iridescens is a territorial lizard with an average home range area of 21 m2.17 Gravid females containing two eggs have been found in Ecuador,10 but the real clutch size is not known.
Conservation: Least Concern Believed to be safe from extinction given current circumstances..18–20 Stenocercus iridescens is listed in this category because the species is widely distributed, abundant throughout its range, and considered to be facing no major immediate extinction threats.18 It is also found in at least 16 protected areas (Appendix 1). Although the species is widely distributed and tolerates moderate habitat degradation, its populations are fragmented and occur over an area where most (~66%) of the forest cover has been transformed into plantations and human settlements.21 Therefore, S. iridescens may qualify for a threatened category in the near future if its habitat continues to be destroyed.
Distribution: Stenocercus iridescens is native to an estimated 58,468 km2 area on the Tumbesian lowlands and adjacent foothills of the Andes in Ecuador and southwestern Colombia. The species has been recorded at elevations between 0 and 2060 m (Fig. 2).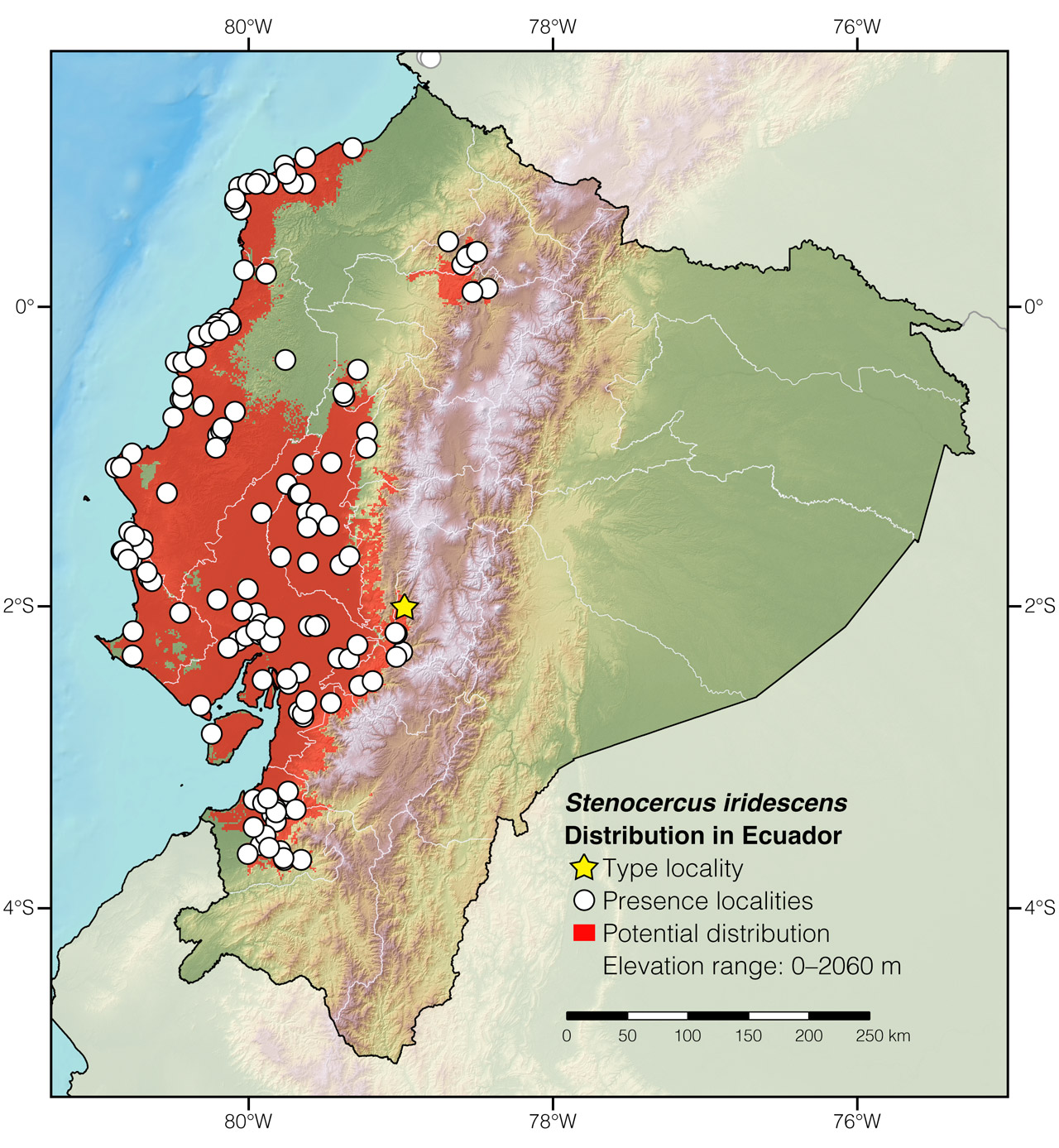 Figure 2: Distribution of Stenocercus iridescens in Ecuador. The star corresponds to the type locality: Pallatanga, Chimborazo province. See Appendix 1 for a complete list of the presence localities included in the map.
Etymology: The generic name Stenocercus, which comes from the Greek words stenos (meaning "narrow") and kerkos (meaning "tail"), refers to the laterally-compressed tail in some members of this genus, which contrasts with the dorsally flattened tail of other Tropiduridae.22 The specific epithet iridescens, which comes from the Greek word iridos (meaning "rainbow"),23 probably refers to the colorful belly of the males in this species.
See it in the wild: Iridescent Whorltail-Iguanas can be seen with almost complete certainty during strongly sunny days in protected areas such like Machalilla National Park, Cerro Blanco Protected Forest Blanco, and Manglares Churute Ecological Reserve. The easiest way to observe lizards of this species is in open areas near vegetation cover.
Author: Amanda QuezadaaAffiliation: Tropical Herping (TH), Quito, Ecuador.,bAffiliation: Laboratorio de Herpetología, Universidad del Azuay, Cuenca, Ecuador.
Editor: Alejandro ArteagaaAffiliation: Khamai Foundation, Quito, Ecuador.
Photographers: Jose Vieira,aAffiliation: Tropical Herping (TH), Quito, Ecuador.,cAffiliation: ExSitu, Quito, Ecuador. Alejandro Arteaga,aAffiliation: Tropical Herping (TH), Quito, Ecuador. and Sebastián Di DoménicodAffiliation: Keeping Nature, Bogotá, Colombia.
How to cite? Quezada A (2021) Iridescent Whorltail-Iguana (Stenocercus iridescens). In: Arteaga A, Bustamante L, Vieira J, Guayasamin JM (Eds) Reptiles of Ecuador: Life in the middle of the world. Available from: www.reptilesofecuador.com. DOI: 10.47051/SDWL4438
Literature cited:
Appendix 1: Locality data used to create the distribution map of Stenocercus iridescens in Ecuador (Fig. 2). Go to the section on symbols and abbreviations for a list of acronyms used. Asterisk (*) indicates type locality.
| | | | |
| --- | --- | --- | --- |
| Country | Province | Locality | Source |
| Colombia | Nariño | Boca Grande | Torres-Carvajal 2007 |
| Colombia | Nariño | San Andrés de Tumaco | ICN 4225 |
| Ecuador | Azuay | Tamarindo | FHGO 416 |
| Ecuador | Cañar | Hidroeléctrica Ocaña | ELECAUSTRO 2019 |
| Ecuador | Cañar | Huatacón | This work |
| Ecuador | Chimborazo | Hostería SantVal | This work |
| Ecuador | Chimborazo | Huigra | MZUTI 5395 |
| Ecuador | Chimborazo | Pallatanga* | Günther 1859 |
| Ecuador | Chimborazo | Puente sobre el Río Chimbo | Torres-Carvajal 2007 |
| Ecuador | Chimborazo | Recinto Sacramento | Torres-Carvajal 2007 |
| Ecuador | Chimborazo | Sacramento | Photo by David Salazar |
| Ecuador | Chimborazo | Vía Huigra–El Triunfo | MZUTI 5397 |
| Ecuador | Cotopaxi | El Jardín de los Sueños | Photo by Christophe Pellet |
| Ecuador | Cotopaxi | La Maná | Torres-Carvajal 2007 |
| Ecuador | El Oro | Buena Vista | Cadle 1991 |
| Ecuador | El Oro | Buena Vista, 7 km SE of | Torres-Carvajal 2005 |
| Ecuador | El Oro | Buenaventura Biological Reserve | Yánez-Muñóz et al. 2019 |
| Ecuador | El Oro | Casacay | iNaturalist |
| Ecuador | El Oro | Cascadas de Manuel | Yánez-Muñóz et al. 2019 |
| Ecuador | El Oro | Lote Tituana | This work |
| Ecuador | El Oro | Machala | USNM 200957 |
| Ecuador | El Oro | Machala, 7 km SSE of | Torres-Carvajal 2005 |
| Ecuador | El Oro | Pasaje | Torres-Carvajal 2007 |
| Ecuador | El Oro | Pasaje, 15 km E of | Torres-Carvajal 2007 |
| Ecuador | El Oro | Pasaje, 2 km S of | Torres-Carvajal 2007 |
| Ecuador | El Oro | Piñas | Torres-Carvajal 2007 |
| Ecuador | El Oro | Remolinos | Yánez-Muñóz et al. 2019 |
| Ecuador | El Oro | Río Jubones | AMNH 21944 |
| Ecuador | El Oro | Road Santa Rosa-Chonta | AMNH 22121 |
| Ecuador | El Oro | Santa Rosa | Torres-Carvajal 2007 |
| Ecuador | El Oro | Satayán, 2 km E of | iNaturalist |
| Ecuador | El Oro | Tahuín | Yánez-Muñóz et al. 2019 |
| Ecuador | Esmeraldas | Aguacate | MECN 2865 |
| Ecuador | Esmeraldas | Atacames | iNaturalist |
| Ecuador | Esmeraldas | Caimito | iNaturalist |
| Ecuador | Esmeraldas | Esmeraldas, 13 km S and 8 km W | KU 142697 |
| Ecuador | Esmeraldas | Esmeraldas, 5 km E of | Cadle 1991 |
| Ecuador | Esmeraldas | Galera, 3 km SW of | iNaturalist |
| Ecuador | Esmeraldas | La Unión de Atacames | Torres-Carvajal 2007 |
| Ecuador | Esmeraldas | Montalvo | MHNG 2438.006 |
| Ecuador | Esmeraldas | Playa Escondida | iNaturalist |
| Ecuador | Esmeraldas | Quingüe | iNaturalist |
| Ecuador | Esmeraldas | Río Esmeraldas | iNaturalist |
| Ecuador | Esmeraldas | Río Tiaone | EPN 5906 |
| Ecuador | Esmeraldas | Same | Torres-Carvajal 2007 |
| Ecuador | Esmeraldas | Tonchigüe | Torres-Carvajal et al. 2006 |
| Ecuador | Esmeraldas | Tonsupa, 6 km E of | Torres-Carvajal 2000 |
| Ecuador | Guayas | Balzar | Torres-Carvajal 2000 |
| Ecuador | Guayas | Bastión Popular | iNaturalist |
| Ecuador | Guayas | Bosque Protector La Prosperina | iNaturalist |
| Ecuador | Guayas | Casas Viejas | Salvatierra et al. 2010 |
| Ecuador | Guayas | Cerrito de los Morreños | Nacipucha Quintero 2014 |
| Ecuador | Guayas | Cerro Blanco Protected Forest | iNaturalist |
| Ecuador | Guayas | Cerro de Hayas | This work |
| Ecuador | Guayas | Cerro Paraíso | iNaturalist |
| Ecuador | Guayas | El Empalme | USNM 200996 |
| Ecuador | Guayas | El Empalme, 21 km SW of | Torres-Carvajal 2007 |
| Ecuador | Guayas | El Morro | Saeteros Gallardo 2014 |
| Ecuador | Guayas | El Triunfo | Photo by Juan Carlos Sánchez |
| Ecuador | Guayas | El Triunfo, 7 km E of | KU 164170 |
| Ecuador | Guayas | Estación Experimental Cuatro Hermanitos | Torres-Carvajal 2005 |
| Ecuador | Guayas | Estero de Soledad | Torres-Carvajal 2005 |
| Ecuador | Guayas | Fuerte Huancavilca | iNaturalist |
| Ecuador | Guayas | Guayaquil | Torres-Carvajal 2007 |
| Ecuador | Guayas | Hacienda San Miguel | USNM 200985 |
| Ecuador | Guayas | Isla Puná, Subida Alta | Navarrete 2011 |
| Ecuador | Guayas | Isla Santay | Photo by Eduardo Zabala |
| Ecuador | Guayas | La Resistencia, 6 km SE of | iNaturalist |
| Ecuador | Guayas | Lago PARCON | iNaturalist |
| Ecuador | Guayas | Las Piedras | iNaturalist |
| Ecuador | Guayas | Manglares Churute Ecological Reserve | Amanda Quezada, personal observation |
| Ecuador | Guayas | Milagro | Torres-Carvajal 2007 |
| Ecuador | Guayas | Milagro, 5 km E of | Torres-Carvajal 2007 |
| Ecuador | Guayas | Naranjal | iNaturalist |
| Ecuador | Guayas | Papagayo Protected Forest | García Aguilera 2017 |
| Ecuador | Guayas | Peñón del Río | Ramírez-Jaramillo et al. 2020 |
| Ecuador | Guayas | Quinta Sandoval | iNaturalist |
| Ecuador | Guayas | Río Daule | MHNG 2438.062 |
| Ecuador | Guayas | Río Taura | iNaturalist |
| Ecuador | Guayas | Villa Nueva | GBIF |
| Ecuador | Imbabura | Apuela | Torres-Carvajal 2007 |
| Ecuador | Imbabura | Apuela, 1 km E of | Torres-Carvajal 2007 |
| Ecuador | Imbabura | Apuela, 2 km W of | Torres-Carvajal 2007 |
| Ecuador | Imbabura | Intag | Photo by Peter Joost |
| Ecuador | Imbabura | Peñaherrera, 1 km SW of | Torres-Carvajal 2007 |
| Ecuador | Imbabura | Peñaherrera, 10 km S of | Torres-Carvajal 2007 |
| Ecuador | Imbabura | Peñaherrera, 3 km SW of | Torres-Carvajal 2007 |
| Ecuador | Imbabura | Río Apuela, 2 km NE of | Torres-Carvajal 2005 |
| Ecuador | Los Rios | Centro Científico Río Palenque | Torres-Carvajal 2000 |
| Ecuador | Los Rios | Hostería El Senor de los Caballos | This work |
| Ecuador | Los Ríos | Bosque Protector Pedro Franco Dávila | Cruz & Sánchez 2016 |
| Ecuador | Los Ríos | Hacienda El Triunfo, ca. 30 km N Vinces | Torres-Carvajal 2005 |
| Ecuador | Los Ríos | Hacienda La Clementina | MHNG 1117.009 |
| Ecuador | Los Ríos | Jauneche | Torres-Carvajal 2007 |
| Ecuador | Los Ríos | Jauneche, 1 km E of | Torres-Carvajal 2007 |
| Ecuador | Los Ríos | Macul | MZUA.RE.0162 |
| Ecuador | Los Ríos | Pacalori | MZUA.RE.0162 |
| Ecuador | Los Ríos | Patricia Pilar | Torres-Carvajal 2000 |
| Ecuador | Los Ríos | Quevedo | Torres-Carvajal 2007 |
| Ecuador | Los Ríos | Reserva Forestal Cerro Samama | Yánez-Muñoz et al. 2016 |
| Ecuador | Los Ríos | San Francisco | iNaturalist |
| Ecuador | Los Ríos | Ventanas | Torres-Carvajal 2007 |
| Ecuador | Manabí | Agua Blanca, 4 km SE of | iNaturalist |
| Ecuador | Manabí | Bosque Seco Lalo Loor | iNaturalist |
| Ecuador | Manabí | Cabo Pasado | Torres-Carvajal 2007 |
| Ecuador | Manabí | Cabuyal | This work |
| Ecuador | Manabí | Calceta, 2 km SW of | iNaturalist |
| Ecuador | Manabí | Calceta, 4 km W of | Torres-Carvajal 2007 |
| Ecuador | Manabí | Cantalapiedra | Salvatierra et al. 2014 |
| Ecuador | Manabí | Cerro San Sebastián | MECN 5966 |
| Ecuador | Manabí | Chone | MNHG 2438.061 |
| Ecuador | Manabí | El Limón | Maldonado Vásquez 2017 |
| Ecuador | Manabí | Hacienda Siberia | Hamilton et al. 2014 |
| Ecuador | Manabí | Hostería Chirije | iNaturalist |
| Ecuador | Manabí | Jama Campay | This work |
| Ecuador | Manabí | Jipijapa, 12 km NNE of | Torres-Carvajal 2007 |
| Ecuador | Manabí | Junín | Torres-Carvajal 2007 |
| Ecuador | Manabí | La Crespa | iNaturalist |
| Ecuador | Manabí | Los Frailes | This work |
| Ecuador | Manabí | Machalilla National Park | Almendáriz & Carr 2011 |
| Ecuador | Manabí | Pacoche Lodge | This work |
| Ecuador | Manabí | Piedra Larga, 2 km S of | iNaturalist |
| Ecuador | Manabí | Playa Dorada | This work |
| Ecuador | Manabí | Playa Dorada | This work |
| Ecuador | Manabí | Puerto Rico | Torres-Carvajal 2007 |
| Ecuador | Manabí | Punta Prieta | Hamilton et al. 2014 |
| Ecuador | Manabí | Rancho San Juan | Maldonado Vásquez 2017 |
| Ecuador | Manabí | Reserva Biológica Cerro Seco | This work |
| Ecuador | Manabí | Reserva Jama Coaque | Steinke 2016 |
| Ecuador | Manabí | Río Ayampe | This work |
| Ecuador | Manabí | Río Chone | iNaturalist |
| Ecuador | Manabí | Río Jama | Photo by Lisa Brunetti |
| Ecuador | Manabí | San Clemente, 2 km N of | Torres-Carvajal 2007 |
| Ecuador | Manabí | San Vicente, 27 km N of | Torres-Carvajal 2007 |
| Ecuador | Manabí | San Vicente, 32 km N of | Torres-Carvajal 2007 |
| Ecuador | Manabí | San Vicente, 9 km N of | Torres-Carvajal 2007 |
| Ecuador | Manabí | Three Forests Trail | Photo by Ryan Lynch |
| Ecuador | Manabí | Tito Santos Biological Reserve | Almendariz et al. 2011 |
| Ecuador | Manabí | Vía Pedernales–Cojimíes | This work |
| Ecuador | Manabí | Vicinity of Refinería del Pacifíco | This work |
| Ecuador | Pichincha | Calacalí, 12 km N of | iNaturalist |
| Ecuador | Pichincha | Chavezpamba | iNaturalist |
| Ecuador | Pichincha | Sector Infiernillo | Online multimedia |
| Ecuador | Santa Elena | Comuna Atahualpa | Rodríguez Reyes 2015 |
| Ecuador | Santa Elena | Dos Mangas | Salvatierra et al. 2014 |
| Ecuador | Santa Elena | Dos Mangas, 5 km E of | iNaturalist |
| Ecuador | Santa Elena | Dos Ríos | iNaturalist |
| Ecuador | Santa Elena | Monte Verde | Ramírez-Jaramillo et al. 2018 |
| Ecuador | Santa Elena | Reserva Las Balsas | This work |
| Ecuador | Santo Domingo de los Tsáchilas | El Esfuerzo | iNaturalist |