| | |
| --- | --- |
| Published July 12, 2021. Open access. | Gallery ❯ |
Cuenca Whorltail-Iguana (Stenocercus festae)
Reptiles of Ecuador | Sauria | Tropiduridae | Stenocercus | Stenocercus festae
English common names: Cuenca Whorltail-Iguana, Peracca's Whorltail Iguana.
Spanish common names: Guagsa de Cuenca, guagsa del Austro, lagartija de Festa.
Recognition: ♂♂ 24.1 cmMaximum distance from the snout to the tip of the tail. Snout–vent length=10.2 cm. ♀♀ 20.6 cmMaximum distance from the snout to the tip of the tail. Snout–vent length=7.9 cm..1,2 The Cuenca Whorltail-Iguana (Stenocercus festae) differs from other lizards in its area of distribution (small, fossorial species in the genera Pholidobolus and Riama) by being larger and having keeled dorsal scales with pointed ends.3 In some areas, S. festae co-occurs with S. ornatus, a lizard having keeled dorsal head scales and lacking a black throat patch in males (instead of head scales smooth and black patch present).2 Stenocercus festae occurs at higher elevations and on more humid habitats than S. rhodomelas, a species that has a well-marked blackish stripe on the labial scales and a pink-black ventral pattern in males (labial stripe and belly pattern different in S. festae).2 Stenocercus simonsii, another co-occurring lizard, can be identified by its spiny tail (not spiny in S. festae).1,2 Males of S. festae differ from females by being larger, more robust, having a black collar at the base of the neck, and a black ante-humeral patch.2 The species that most resembles S. festae in size and coloration is S. cadlei of central Ecuador, a lizard in which the black ante-humeral patch in adult males is lacking.4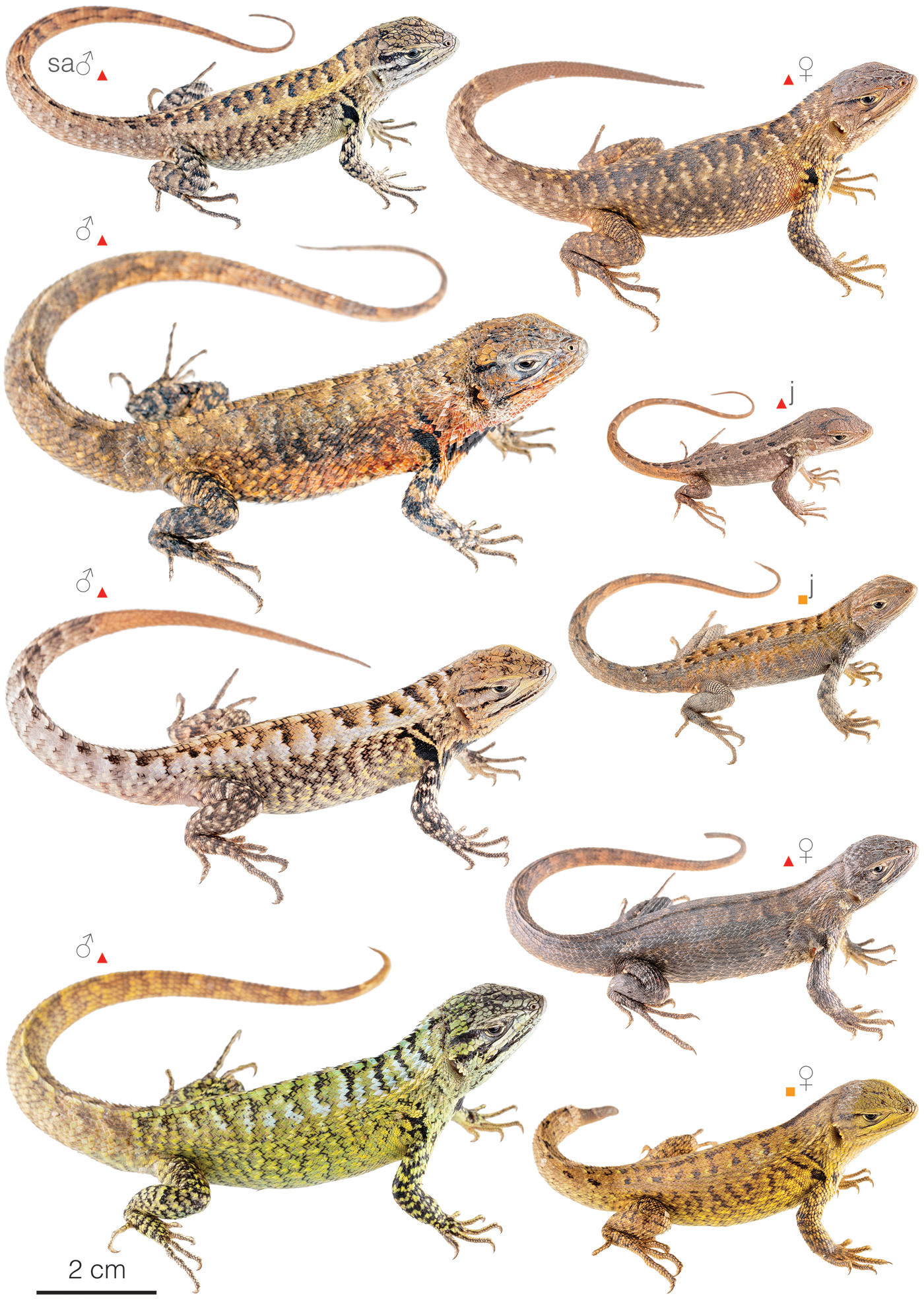 Figure 1: Individuals of Stenocercus festae from Cuenca () and Sustag (), Azuay province, Ecuador. sa=subadult, j=juvenile.
Natural history: Locally commonRecorded weekly in densities above five individuals per locality.. Stenocercus festae is a diurnal and terrestrial lizard that inhabits highland shrublands, evergreen montane forests, and paramos.1,5 This species prefers relatively undisturbed open and semi-open areas dominated by grass6,7 and shrub vegetation,6 but may as well be present in disturbed areas such as plantations, pastures, along roads, and rural gardens.6,8 Cuenca Whorltail-Iguanas forage on the ground,1,7 rock piles, and walls9 close to vegetation (for example, Agave and Cortadeira plants),7 to which they retreat if threatened.9,10 Individuals are most active during sunny days and can be seen basking on rocks,6 on Agave plants,1,9 or in the middle of roads. During cloudy days or at night, they are generally found dormant under dry rocks or logs.6,9 Their diet consists of small invertebrates (such as beetles and spiders),9,10 frogs,10 and lizards (Pholidobolus macbrydei).6 There are records of snakes (Incaspis amaru and Siphlophis ayauma) preying upon individuals of this species.11,12 When handled or captured, these lizards may shed the tail or bite as methods of defense and escape.6 Males are territorial and fight against other males.10 Females lay clutches of two eggs that are buried in soft sandy soil, under rocks, logs, leaf-litter, in the middle of vegetation, or in dirt walls.6,7,10 Up to six eggs, presumably from different females, have been found in the same nest.6
Conservation: Vulnerable Considered to be facing a high risk of extinction in the mid-term future..13 Stenocercus festae is listed in this category because although it is a common species, its estimated extent of occurrence is less than 10,000 km2 and there is a continuing decline in the extent and quality of its habitat due to burning and the expansion of the agricultural frontier.13 Based on maps of Ecuador's vegetation cover published in 2012,14 an estimated ~47% of the native habitat of S. festae has already been destroyed. Mining and predation by exotic species (cats and chickens)9,13 are localized threats to some populations. Fortunately, S. festae occurs in major protected areas such as El Cajas National Park, Podocarpus National Park, Sangay National Park, Mazán Protected Forest, Molleturo-Mullopungo Protected Forest, and Mazar Wildlife Reserve.
Distribution: Stenocercus festae is endemic to an estimated 8,340 km2 area in the inter-Andean valleys and paramos of southern Ecuador. The species has been recorded at elevations between 2284 and 4250 m (Fig. 2).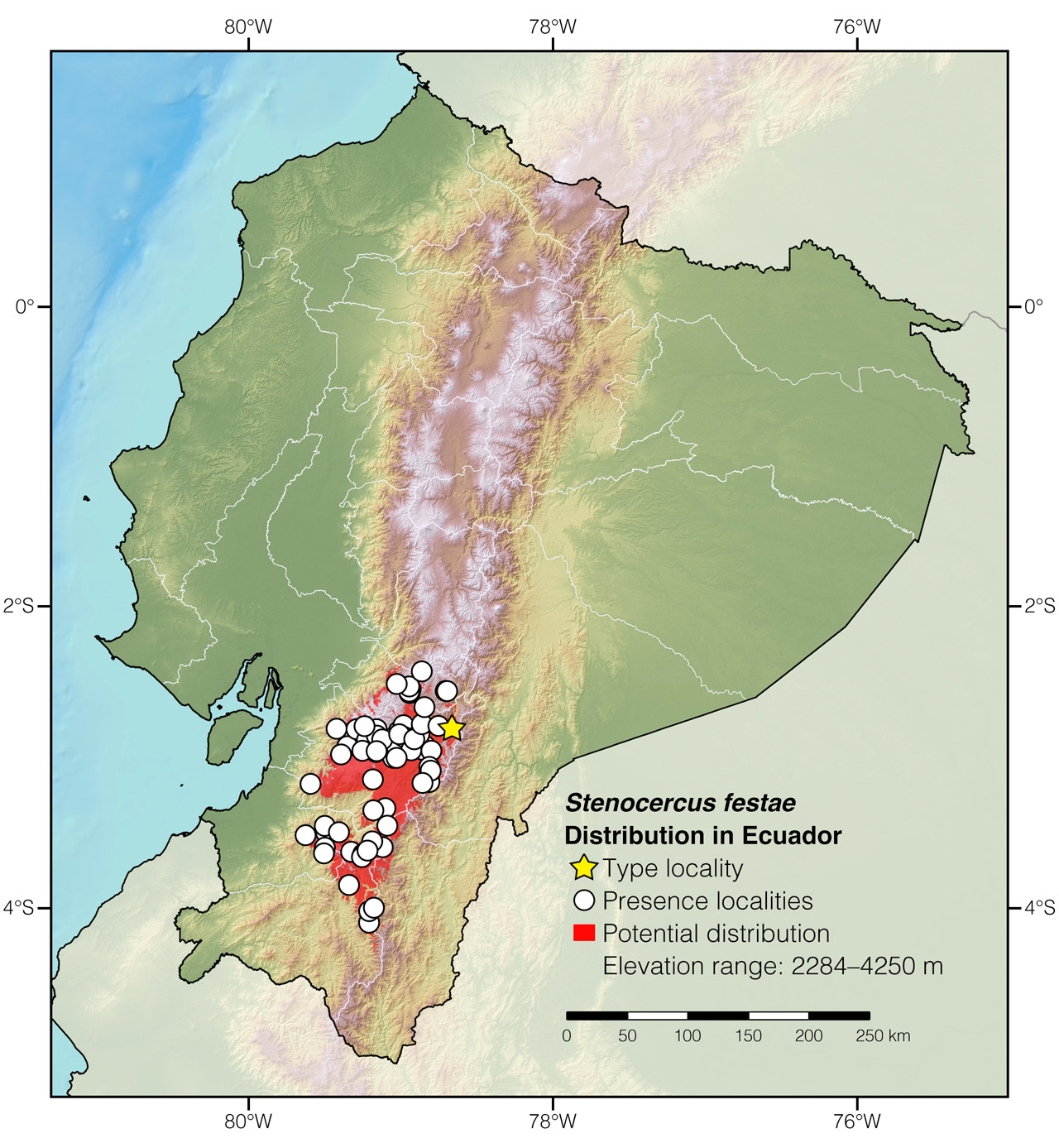 Figure 2: Distribution of Stenocercus festae in Ecuador. See Appendix 1 for a complete list of the presence localities included in the map.
Etymology: The generic name Stenocercus, which comes from the Greek words stenos (meaning "narrow") and kerkos (meaning "tail"), refers to the laterally-compressed tail in some members of this genus, which contrasts with the dorsally flattened tail of other Tropiduridae.15 The specific epithet festae honors Dr. Enrico Festa (1868–1939), an Italian zoologist who collected the holotype of the species.16
See it in the wild: Cuenca Whorltail-Iguanas can be seen with almost complete certainty in protected areas such as El Cajas National Park and Bosque Protector Aguarango. The lizards are most easily seen during sunny days, basking or foraging in open areas along trails and roads in areas of shrubby vegetation.
Authors: Amanda QuezadaaAffiliation: Tropical Herping (TH), Quito, Ecuador.,bAffiliation: Laboratorio de Herpetología, Universidad del Azuay, Cuenca, Ecuador. and Alejandro ArteagaaAffiliation: Khamai Foundation, Quito, Ecuador.
Photographers: Jose VieiraaAffiliation: Tropical Herping (TH), Quito, Ecuador.,cAffiliation: ExSitu, Quito, Ecuador. and Alejandro ArteagaaAffiliation: Khamai Foundation, Quito, Ecuador.
How to cite? Quezada A, Arteaga A (2021) Cuenca Whorltail-Iguana (Stenocercus festae). In: Arteaga A, Bustamante L, Vieira J, Guayasamin JM (Eds) Reptiles of Ecuador: Life in the middle of the world. Available from: www.reptilesofecuador.com. DOI: 10.47051/QKER3440
Literature cited:
Torres-Carvajal O (2000) Ecuadorian lizards of the genus Stenocercus (Squamata: Tropiduridae). Scientific Papers Natural History Museum, The University of Kansas 15: 1–38. DOI: 10.5962/bhl.title.16286
Torres-Carvajal O (2007) A taxonomic revision of South American Stenocercus (Squamata: iguania) lizards. Herpetological Monographs 21: 76–178. DOI: 10.1655/06-001.1
Peters JA, Donoso-Barros R (1970) Catalogue of the Neotropical Squamata: part II, lizards and amphisbaenians. Bulletin of the United States National Museum, Washington, D.C., 293 pp.
Torres-Carvajal O, Mafla-Endara P (2013) A new cryptic species of Stenocercus (Squamata: Iguanidae) from the Andes of Ecuador. Journal of Herpetology 47: 184–190. DOI: 10.1670/11-211
Torres-Carvajal O, Pazmiño-Otamendi G, Salazar-Valenzuela D (2019) Reptiles of Ecuador: a resource-rich online portal, with dynamic checklists and photographic guides. Amphibian & Reptile Conservation 13: 209–229.
Yánez-Muñoz MH, Bejarano-Muñoz P, Sánchez-Nivicela JC (2019) Anfibios y reptiles del páramo al manglar. Capítulo II. In: Garzón-Santomaro C, Sánchez-Nivicela JC, Mena-Valenzuela P, González-Romero D, Mena-Jaén JL (Eds) Anfibios, reptiles y aves de la provincia de El Oro. GADPEO–INABIO, Quito, 45–86.
Quezada-Riera AB, Alarcón IP, Aguirre-Pesántez J, Urgilés VL (2019) Stenocercus festae (Peracca's Whorltail Iguana). Reproduction. Herpetologcal Review 50: 791–792.
Sánchez-Nivicela JC, Urgilés VL, Quezada AB, Timbe-Borja BT, Neira KN, Siddons DC (2018) Guía de reptiles de Cuenca: una introducción a la biología de los reptiles alto andinos y su identificación en campo. GAD del Cantón Cuenca, Comisión de Gestión Ambiental y Universidad del Azuay, Cuenca, 112 pp.
Arbeláez Ortiz E, Vega Toral A (2008) Guía de anfibios, reptiles, y peces del Parque Nacional Cajas. ETAPA, Cuenca, 155 pp.
Zaher H, Arredondo JC, Valencia JH, Arbeláez E, Rodrigues MT, Altamirano-Benavides M (2014) A new Andean species of Philodryas (Dipsadidae, Xenodontinae) from Ecuador. Zootaxa 3785: 469–480. DOI: 10.11646/zootaxa.3785.3.8
Cisneros-Heredia DF, Valencia J, Brito J, Almendáriz A, Muñoz G (2017) Stenocercus festae. The IUCN red list of threatened species. DOI: 10.2305/IUCN.UK.2017-2.RLTS.T178306A54446402.en
MAE (2012) Línea base de deforestación del Ecuador continental. Ministerio del Ambiente del Ecuador, Quito, 30 pp.
Duméril AMC, Bibron G (1837) Erpétologie générale ou Histoire Naturelle complète des Reptiles. Librairie Encyclopédique de Roret, Paris, 571 pp. DOI: 10.5962/bhl.title.45973
Peracca MG (1897) Viaggio del Dr. Enrico Festa nell'Ecuador e regioni vicine. Bolletino dei Musei di Zoologia ed Anatomia Comparata della Università di Torino 12: 1–20. DOI: 10.5962/bhl.part.4563
Appendix 1: Locality data used to create the distribution map of Stenocercus festae in Ecuador (Fig. 2). Go to the section on symbols and abbreviations for a list of acronyms used. Asterisk (*) indicates type locality.
| | | | |
| --- | --- | --- | --- |
| Country | Province | Locality | Source |
| Ecuador | Azuay | Aguarongo | MZUA.RE.0129 |
| Ecuador | Azuay | Between Soldados and Angas | This work |
| Ecuador | Azuay | Bioparque Amaru | This work |
| Ecuador | Azuay | Bosque Protector Aguarongo | MZUA.RE.0192 |
| Ecuador | Azuay | Buriña | KU 141161 |
| Ecuador | Azuay | Cerro Arquitectos | Arveláez & Vega-Toral 2008 |
| Ecuador | Azuay | Cerro El Mozo | Jorge Luis Romer, pers. comm. |
| Ecuador | Azuay | Chaullayacu | MZUA.RE.0314 |
| Ecuador | Azuay | Chiquintad | MZUA.RE.0478 |
| Ecuador | Azuay | Chordeleg, 2.4 km S of | KU 141146 |
| Ecuador | Azuay | Chorros de Giron | This work |
| Ecuador | Azuay | Cochapamba | Torres-Carvajal et al. 2019 |
| Ecuador | Azuay | Contrayerbas | Torres-Carvajal 2007 |
| Ecuador | Azuay | Cuenca | Torres-Carvajal 2007 |
| Ecuador | Azuay | Cuenca, 1.2 km S of | KU 141154 |
| Ecuador | Azuay | Cuenca, 8.8 km NW of | iNaturalist |
| Ecuador | Azuay | Culebrillas | MECN 1764 |
| Ecuador | Azuay | Cutchil, 3.9 km S of | KU 141144 |
| Ecuador | Azuay | Cutchil, 8 km S of | KU 141148 |
| Ecuador | Azuay | El Cajas National Park | iNaturalist |
| Ecuador | Azuay | El Valle | Sánchez-Nivicela et al. 2018 |
| Ecuador | Azuay | Gulag | Photo by David Salazar |
| Ecuador | Azuay | Hacienda El Gullán | Torres-Carvajal et al. 2019 |
| Ecuador | Azuay | Higospamba | Field notes ofAmanda Quezada |
| Ecuador | Azuay | Laguna Llaviucu | Torres-Carvajal 2000 |
| Ecuador | Azuay | Llacao | MZUA.RE.0444 |
| Ecuador | Azuay | Mall del Río | MZUA.RE.0029 |
| Ecuador | Azuay | Octavio Cordero | Sánchez-Nivicela et al. 2018 |
| Ecuador | Azuay | Paute | This work |
| Ecuador | Azuay | Pimo | Fields notes of Amanda Quezada |
| Ecuador | Azuay | Ricaurte | Sánchez-Nivicela et al. 2018 |
| Ecuador | Azuay | Río Mazán | KU 207522 |
| Ecuador | Azuay | Río Yanuncay | MZUTI 4543 |
| Ecuador | Azuay | Río Yanuncay | This work |
| Ecuador | Azuay | San Cristóbal | Torres-Carvajal 2007 |
| Ecuador | Azuay | Santa Ana | Sánchez-Nivicela et al. 2018 |
| Ecuador | Azuay | Sevilla de Oro* | Torres-Carvajal 2000 |
| Ecuador | Azuay | Sigsig | Torres-Carvajal et al. 2006 |
| Ecuador | Azuay | Sigsig, 3.1 km S of | Torres-Carvajal 2007 |
| Ecuador | Azuay | Sinincay | Torres-Carvajal 2007 |
| Ecuador | Azuay | Soldados | MZUA.RE.0453 |
| Ecuador | Azuay | Sustag | This work |
| Ecuador | Azuay | Tarqui | iNaturalist |
| Ecuador | Azuay | Tres cruces | CAS 93924 |
| Ecuador | Azuay | Ucubama | Torres-Carvajal 2000 |
| Ecuador | Azuay | Unnamed paramo | This work |
| Ecuador | Azuay | Urdaneta, 14 km NE of | KU 179419 |
| Ecuador | Cañar | Azogues | Torres-Carvajal 2007 |
| Ecuador | Cañar | Cañar | Torres-Carvajal 2000 |
| Ecuador | Cañar | El Rosario | KU 141143 |
| Ecuador | Cañar | La Carbonería | Torres-Carvajal 2000 |
| Ecuador | Cañar | La Libertad | MZUTI 3416 |
| Ecuador | Cañar | Laguna Culebrillas | Torres-Carvajal 2000 |
| Ecuador | Cañar | Molobog | Photo by Karla Neira |
| Ecuador | Cañar | Río Cañar, 0.5 km S of on Panamerican highway | KU 141143 |
| Ecuador | Cañar | Zhoray–Mazar road | This work |
| Ecuador | El Oro | Cerro de Arcos | Yánez-Muñoz et al. 2019 |
| Ecuador | El Oro | Chillacocha | Photo by Elicio Tapia |
| Ecuador | El Oro | Guanazan | This work |
| Ecuador | El Oro | La Enramada | Yánez-Muñoz et al. 2019 |
| Ecuador | El Oro | Río Tacay | Online multimedia |
| Ecuador | El Oro | Salvias | Torres-Carvajal 2007 |
| Ecuador | Loja | Cajanuma | Torres-Carvajal 2007 |
| Ecuador | Loja | Carboncillo | This work |
| Ecuador | Loja | Chuquiribamba | Torres-Carvajal 2000 |
| Ecuador | Loja | Loja | Torres-Carvajal 2007 |
| Ecuador | Loja | Loja, 7.5 km E of | Torres-Carvajal 2007 |
| Ecuador | Loja | Manú | Torres-Carvajal 2000 |
| Ecuador | Loja | Saraguro | Torres-Carvajal 2000 |
| Ecuador | Loja | Saraguro, 3 km S of | This work |
| Ecuador | Loja | Selva Alegre | Torres-Carvajal et al. 2019 |
| Ecuador | Loja | Urdaneta | Torres-Carvajal 2007 |